Firmly Grounded in the Carnatic Classical Tradition
Toronto Brothers Ashwin Iyer and Rohin Iyer are senior disciples of veteran musician and musicologist, Sangita Kala Acharya Kalaimamani Shri S. R. Janakiraman.
They had their initial formal training in Toronto, Canada under Smt. Renuka Balachandran and Smt. Vasumathy Nagarajan. They have also had advanced training under Shri T. R. Subrahmanyam and Shri T. K. Govinda Rao.
A Captivating Synergy
The Toronto Brothers' concert presentations are intelligent and powerful; their scholarly renditions reflect a strict adherence to traditional patantaram (musical heritage) as imbibed from their guru.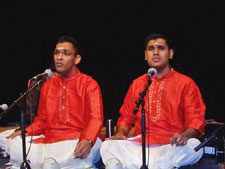 At the same time, the young duo brings a unique approach to the concert platform through their matched voices and exchanges on the stage. Listeners have remarked that the two brothers share a captivating synergy that makes for a memorable and exhilarating concert experience. Their diverse repertoire includes compositions in Telugu, Sanskrit, Tamil, Kannada, and Hindi, and combines popular, traditional, and technical themes. As a result, their music appeals to a wide audience ranging from music lovers to music connoisseurs.
Although raised in Toronto, their music has gained recognition in the North American scene and also the Chennai music circuit. Ashwin and Rohin have won prizes in various music competitions across North America and have performed in various cities in Canada, the US, and India. Visit the Concerts page for more details.
Merging Style With Tradition
Through continued practice and devotion to the art, the brothers are making a mark on the Carnatic Music scene by combining their distinctive style with the traditions of their musical lineage.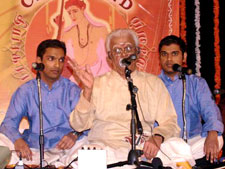 Through their ties to both North American and South Indian culture, they hope to establish traditional Carnatic Music as a mainstream phenomenon.